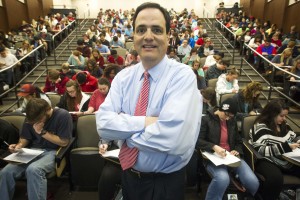 Dr. Chris Roberts is an associate professor in the Department of Journalism and Creative Media at the University of Alabama.
He earned his undergraduate and master's degrees at Alabama in the late 1980s, and he worked at newspapers in Alabama and South Carolina before earning his doctoral degree at the University of South Carolina in 2007.
At Alabama, Dr. Roberts:
• Heads the department's graduate studies.
• Chairs the Media Planning Board for the Office of Student Media, and serves on numerous committees.
• Delivered the 10th annual Last Lecture in April 2016.
Nationally, Dr. Roberts:
• Is a member of the Society of Professional Journalists' ethics committee, and was part of the team that revised its code of ethics in 2014.
• Served four years on the board of the Association for Education in Journalism and Mass Communication, as head and vice head of the Council of Divisions. Software he wrote has saved taxpayers and AEJMC members thousands of dollars in travel.
• Has been quoted as a media ethics expert by The New York Times, Politico, The Christian Science Monitor, NewsMax, Alabama Media Group, and others.
• Maintains DoingEthicsIn.Media, a continuously updated site affiliated with Doing Ethics in Media: Theories and Practical Applications, written with co-author Jay Black (Routledge, 2011).